Living Room and Kitchen
Jetsam's Landing was built in the late 1930's out of jetsam Roy Sheldon and his father found on the beach. Roy Sheldon was a local businessman after whom a local city park is named.
The coast along Long Beach Peninsula is known as "The Graveyard of the Pacific". In 1936 the American steamship "Iowa" shipwrecked and 34 of her crew were lost. The Iowa was a cargo vessel that was carrying a lot of wood. For the next few weeks following the shipwreck a lot of the wood washed ashore. Roy & his father gathered the jetsam wood and used it to build this house.
The house originally sat farther back on the lot. In the late 1940's, some large timbers washed ashore and were used to build a new foundation. The house was placed on large logs and rolled on to its new foundation.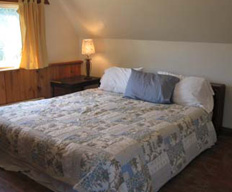 Master Bedroom